Chartered Surveyors
Building Surveyors
Project Managers
Property Consultants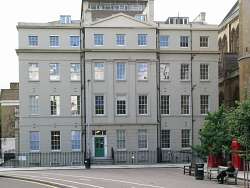 Listed Building Consent and Project Management of Grade II listed student hostel for Huron University at 1 Byng Place, London, WC1
Marshall Land & Property Associates LLP was formed in April 2005. The firm was formed by Hugh Marshall out of the Building Consultancy division of Meadowcroft Chartered Surveyors, which he headed for 22 years.
Including his time with Meadowcroft the Practice has maintained its presence in Kensington since 1983 moving to the current office in Adam & Eve Mews for 2013. The practice maintains close ties in the Property management field with local firms and now carries out a considerable amount of Management Building Surveying in addition to traditional Building Surveying work.
Our sphere of operation is mainly within the M25 although our clients are both London and nationally based and we undertake surveying and project management throughout England with particular interest and connections in the West Country. Our work has taken us from Newcastle on Tyne to very nearly Lands End as well as into North and South Wales.
Because Marshall Land & Property Associates (MLPA) grew out of a single multi-disciplinary firm, the wealth of experience and the contacts that are part of the near 30 year history of the original Practice remain and Marshall Land & Property Associates can offer a wide range of surveying fields to existing and new clients.
Property is what we are about.
Marshall Land & Property Associates LLP is Regulated by the RICS
Provision of Service Regulations 2009
We comply with the above regulation by displaying the required details of our Professional Indemnity Insurance at our Office