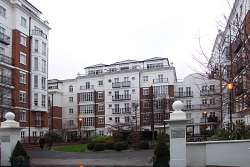 External decoration contract handled for the freeholders of Kensington Green London W8
This section is broken down into the three main headings of Surveying Services, Project Management and Valuation. So please click the relevant pop up links for more information.
Marshall Land & Property Associates is about Property and, as Chartered Surveyors; we offer a wider base of services than pure Building Surveyors although Building Surveying is our main field of activity.
The firm offers advice on many types of property. A significant element of our work is within the residential field, either advising on individual house or flat purchases or working in tandem with Managing Agents and Block owners to maintain blocks of flats, converted houses and property estates.
Advice also extends to leasehold and freehold commercial premises, mainly offices or smaller industrial property. Association with long term clients has led to acquisition advice on retail premises where the building's value is rooted in the covenant of the lessee and full repairing and insuring leases are the order of the day.
Another area of property that has formed part of the firm's business is the Public House sector. MLPA has traditionally advised prospective tenants of Pubs and Hotels with regard to the building fabric and the effects of certain trade leases on the liabilities arising together with advice to prospective purchasers of Free House businesses.
Our Project Management remits often develop out of initial advice on property. We have project managed the refurbishment of a University building in Bloomsbury, and out of this we moved into a refurbishment of a Listed Building into a Student Hall of Accommodation for the same client. Our Management Building Surveying arm is involved in significant contracts maintaining and repairing residential property. We work with loss adjusters on Fire Reinstatement work and we carry out individual refurbishment projects. Planning advice often forms part of our work and of course we deal with all aspects of Building Regulation consents. Our Structural Engineering Consultant and our Architectural Consultants enable us to give a broad scope of advice and work for our clients.
A substantial amount of Party Wall work is carried out by the Practice, both acting for Building Owners and Adjoining Owners in accord with the Party Wall etc Act 1996. Whilst this legislation was in existence in London through the early part of the 20th century, it has been applicable to the whole country from 1997 and is an important part of carrying out work on or close to the boundary with a neighbouring property.