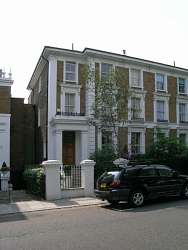 Survey of a major Kensington Residence in SW5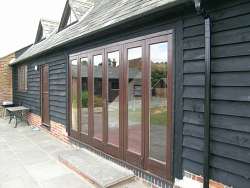 Survey of a timber framed barn conversion Nr Ashford, Kent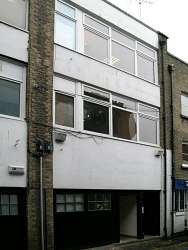 Survey of a commercial building in Charlotte Street area of W1
Building Surveying.
MLPA carries out a comprehensive inspection and report designed to clearly indicate the areas of defect in a property. Our surveys employ digital photography to help to identify the areas of the building we aree talking about and to identify defects.
We are often asked to quote for different levels of survey and it is important that our clients are aware of what we offer. There are three basic levels of report, The Valuation Survey, The Homebuyers Report and The Building Survey. The Valuation Report has little information about the property and Valuers do not carry out full inspections. The Valuation Report is designed to identify Value and where a lender is involved, the report is generally to cover the lenders interest in the property. This report may raise questions such as dampness or structural movement and in these instances a lender will almost certainly request further specialist reports. Here, we can help. Our consultant Engineer is able to report on Structure and we can arrange specialist reports to investigate elements that are questioned. Often, in this instance, the reports obtained are retricted to the specific areas of the property that have been identified as defective and do not cover the whole property unless a Builing Survey is requested.
The Home Buyers Report is a middle of the road report designed to reduce costs and to answer quetsions about elements of structure in a brief statement on pre prepared forms. MLPA does not provide this service at the present preferring to rely on the Building Inspection that it has developed over the last 20 years.
The building inspection is what used to be referred to as a Structural Survey. In reality, a Sructural Survey involves destructive investigation which is seldom allowed by the Vendor and really this only becomes appropriate where there is a problem identified by an inspection and further work is ncessary. In conjunction with our Consultant Engineer we are able to carry out this form of diagnostic inspection but this is rarely undertaken unless there is a problem arising out of our initial inspection.
Our Building Inspections break the property into certain elements and each element has its own heading. We report on a visual inspection of the services as well as the components of the property. We do not pretend to detail every small item such as kitchen unit door handles, individual items of furnishing, cookers freezers and other fittings etc. We do take care to identify all those areas that affect the proeprty, its value and its suitability for purpose.
Individual sections such as Electrics, Heating, Drainage, Dampness and TimberDefect, Swimming Pools and Audio/Video Installations, to name a few, are specialist areas. We do not automatically employ the services of all the specialists to report to you. Where we detect problems or feel there is a need for further inspection this will be reported and we are able to co-ordinate specialists to provide further reports. This is an additional service. We are happy to add specialist inspections to our own report t the initial stage if requested so to do by our client. This is often the case in commercial property where Air Conditioning, Lifts and more sophisticated Electrics are in place.
We believe that we act as eyes and ears for you legal representatives also. Where we can, we will identify unusual events and neighbours that may affect your property. We look to see if there are easements or unusual arrangements affecting the property and we are always happy to take follow up calls from clients and their advisers. We always provide two final copies of our reports one of which can be sent directly to your solicitor if details are provided. Each report will contain and Environmental analysis and will contain information on planning available to us from the Local Authority.
If you would like us to provide a quote for a Building Survey please go to Contacts, Click on Building Survey and fill in the reply form. We will respond with a quotation and a timescale.
Back to Main Surveying Page
---
Maintenance Reports.
This can cover many fields and the scope is variable.
We are asked to report on buildings to advise on maintenance and remedial work. This form of a report is akin to a building survey but is generally more specifically restricted to certain items such as external repair, internal common parts etc. This service can be developed into planned preventative Maintenance schedules. These are generally designed to help clients establish maintenance petterns on their buildings for 5 or 10 year periods to enable service charge forecasts to be made and to ensure proper maintenance levels of the buildings that are the most important assets that most people have.
It is unusual for this service to be requested in individual cases and we mainly work on this with Managing Agents and Owning Companies of multiple occupation buildings.
Alongside the maintenance aspects of buildings, there is important legislation that is increasingly affecting the privet home as well as multi use property. Items such as Fire Escape, Health & Safety, deleterious materials, water sytems, Mechanical and Electrical Sytems all require certain standards to be met. We supply reports on these elements. Specification.
This normally leads into our Project Management roll but can sometimes be a stand alone exercise.
Where works are required to extend, alter, refurbish or maintain a building, we will produce a Specification usually including a pre-contract Health & Safety Plan to enable the client to go to tender to contractors. Where this develops into the running of the job we include this in our project management service.
Back to Main Surveying Page
---
Party Wall Matters.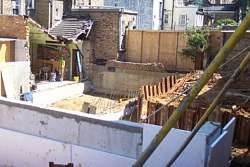 Party Wall work on new build housing, Wandsworth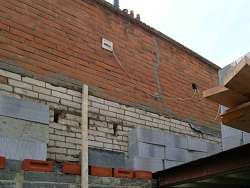 Party Wall work, Hampstead
The Party Wall etc Act 1996 is a piece of legislation that took party wall procedure to a national level in 1997 when it came into effect. Despite this ist remains an obscure piece of legislation to most and particularly outside Central London where the operation of party wall procedure had been enshrined in The London Building Acts for many years.
The Act applies to all work being carried out to a Party Wall andor a Party Fence Wall and to works carried out immediately adjacent to a neighbouring property or within 3 or 6 metres at lower depth than the foundations of the adjoining property. It is particularly used where terraced propertis are common but affects any property attached to another, built closely to another or where ther aere deep excavations.
What is a Party Wall? This is relatively easy to define. It is a structure that is shared by two or more buildings. In essence the line of boundary is in the middle of the wall and therfore neighbours have a right to use their proportion of the wall. The Act therfore sets out the rights of adjoining owners as well as the way that the rights are to be exercised. Where a common structure is employed or foundations are placed adjacent at a lower level, there is a possibility that the work will affect neighbours. The Act is devised to deal with this and to ensure that any damage resulting from neighbouring works that qualify undre the Act can be properly identified and made good by those liable. This piece of legislation does not give a neighbour control over his neighbours works where they are not qualifying party wall works. Whilst seeking to set out methods and times of working, these elements are in essence dealt with by the rules and regulations of Local Authorities so the Party Wall legislation, whilst being very important is restricted in its scope. It is an offence not to comply with this legislation.
The Award is drawn up by surveyors. A single surveyor can act for both parties but it is more common for each party to instruct their own surveyor. The surveyors so appointed are held to be impartial and are officers of the Act and are to administer the Act fairly. An Award sets out the details of work to be done and how it shall be done along with the rules under which the work is to be carried out. An Award always contains a schedule of condition of the relevant areas of an adjoining property to establish the condition so no argument should ensue as to damage caused. The rules for rectification of the damage are included, the payment of costs and the timescale of the works. There is a strict procedure for service of notices and for timing from Notice to commencement.
We Act for both Building Owners and Adjoining Owners. The Building Owner invariably is responsible for payment of the reasonable fees of both surveyors and any costs arising.
Back to Main Surveying Page
---
Dilapidations.
This subject has been much affected in recent years by the Woolf Report making this part of property law a much more level playing field. The basis of Dilapidations Law is rooted in the leasehold property system and is designed to ensure that tenants and lessees of property hand back property to the superior landlord in an acceptable condition.
There are some points that should be considered carefully here. The condition in which a property is taken does not limit the condition in which it is handed back. In order to keep a property in good and tenantable repair it must first be put in good repair. A schedule of condition at the beginning of the lease, provide this is referred to as limiting the condition that the property is to be handed back in, in the lease will reduce the tenants liability. A tenant is well advised to consider his liabilities before the end of a lease and take steps to ameliorate his position. Also, it is important that the property is kept in good repair during the lease to prevent an excessive liability at the end.
Back to Main Surveying Page
---
Schedules of Condition
Schedules can be used for many purposes. We use schedules of condition for Dilapidations, Party Wall Matters and for Maintenance Reports. It should be understood that a schedule used at the initiation of a lease is only a valid tool if it is referred to in the lease.
Back to Main Surveying Page
---
Building Reinstatement Costs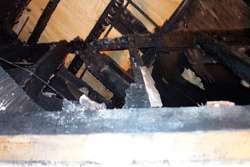 Fire Damage to house in Notting Hill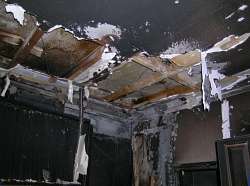 Severe structural fire damage to a Victorian block of converted flats at Lancaster Gate
This is the assesment for reinstatement that gives the property owner the figure he should insure his property for. It is not related to the market value of the property as it does not reflect any land value.
The assessment normally includes a number of elements in addition to the current building costs. In addition there will be fees and special site features plus consideration of special building types or Listed Building matters and of course any special access features or restrictions on site. The inflation of building costs over the year of the policy and inflation in costs during the demolition, planning and construction stages need to be considered.
One point that is well worth considering is that, where a building is under insured and partial damage occurs, insureres can "average" the costs and therefore will only pay a reduced percentage of a claim even if it does not exced the maximum sum insured.
We carry out reinstatement and specification work, liasing with loss adjusters for insurance companies. This can be for fire damage or for other damage by insured risks.
Back to Main Surveying Page
---
Specification
This element often arises out of requests to rectify defect found in surveys or to provide on going alteration and or` refurbishment work to properties we have advised on. Often the production of maintenance schedules leads to specifying tendering and supervising works and in other instances we are given specific instructions to specify arrange and supervise work for clients managing agents and freehold owners of buildings.
Since the formation of Marshall Land & Property Associates in April 2005, we have become involved more closely with New Build, particularly individual houses. We have been involved in planning, design and specification of individual properties and of course building regulations. Another area where the firm has become involved is certification of new build.
Where we are asked to supervise work we would normally expect to have carried out the specification of the work and to complete the full package. We have in the past specified work where we have not been asked to manage the build stage but we normally do not work on supervision where specification has been prepared by others.
Back to Main Surveying Page
---
Structural Engineering
We offer an Engineering service through our consultant, Clive Watson. We consider Engineering to be an important adjunct to our surveying services.
Where diagnostic reports are required, we need engineering input to remedy defects. This is also a service that is much needed where ther are problems with ground conditions settlement etc and where rectification of these defects is required. The service provides a useful addition to our survey work and we are often called upon where there are specialist reports required on specific items following say a Valuaton Survey which may well have been carried out by others.
In carrying out our Project Management roll we are able to design structure for new works , refurbishment and alterations and submit structure to Building Control.
Back to Main Surveying Page